What are Web Stories?
Web Stories feature full-screen video, photos, and audio in a shareable slideshow format, similar to Instagram Stories. They appear in Google Search and Google Discover, and we've seen them drive large amounts of traffic to publishers' sites!
Visit Google's page on Web Stories to see some examples of dynamic content being shared on this platform.
Can Raptive monetize my Web Stories?
Yes, we can monetize Web Stories by placing our ads on them, but it's important to note that there is not a large demand for these ads at this time. The major value of Web Stories is to drive traffic to related posts on your site, where you run your full ad layout.
Think of these as another social media platform, where the purpose is to give readers a useful or entertaining experience and then encourage them to click through to your amazing content!
How can I run ads on my Web Stories?
If you're running our AdThrive Ads plugin, version 1.0.46 and higher, all you have to do is enable the Web Stories option.
Click on "AdThrive" in your WordPress dashboard sidebar to get to the AdThrive Ads plugin settings page: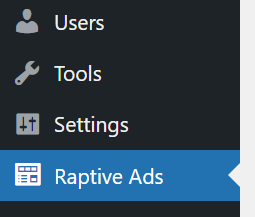 Then simply check the box next to "Enable Web Stories ads" on the plugin settings page, and you're all set!

According to Google's documentation on Web Stories ads, the first ad will be placed sometime after the first two pages and the number of ads served will be proportionate to the amount of content in the Web Story. You can also see an example of a Web Story with ads in that article.
If you're not running our plugin, we can still enable ads on your Web Stories. Just email us, and our team will provide you with a custom ad tag to install on your Web Stories pages.
How do I get started with Web Stories?
First, check out these videos Google has created to share tips and best practices for Web Stories.
Then, install the Web Stories WordPress plugin and start creating! You'll publish Web Stories on your site via the plugin, which allows Google to find them and display them in Google Search and Google Discover.
We don't recommend embedding Web Stories into your regular blog posts, but rather using them as a means of driving traffic to your most profitable posts and earning from your ads there.
Start by creating Web Stories for some of your top posts, making sure to include a link to that post in the Story. Offer quality content in your Web Story, not just a teaser that requires a click-through, to make readers and Google happy.
Will running ads on Web Stories affect my RPM?
Since Web Stories can generate a lot of pageviews with a very minimal RPM, we recommend setting up a filtered view in Google Analytics that excludes your Web Stories traffic. This will allow your RPM calculation to be more accurate and representative of how your ads are performing. See this article for full instructions!