How to log in: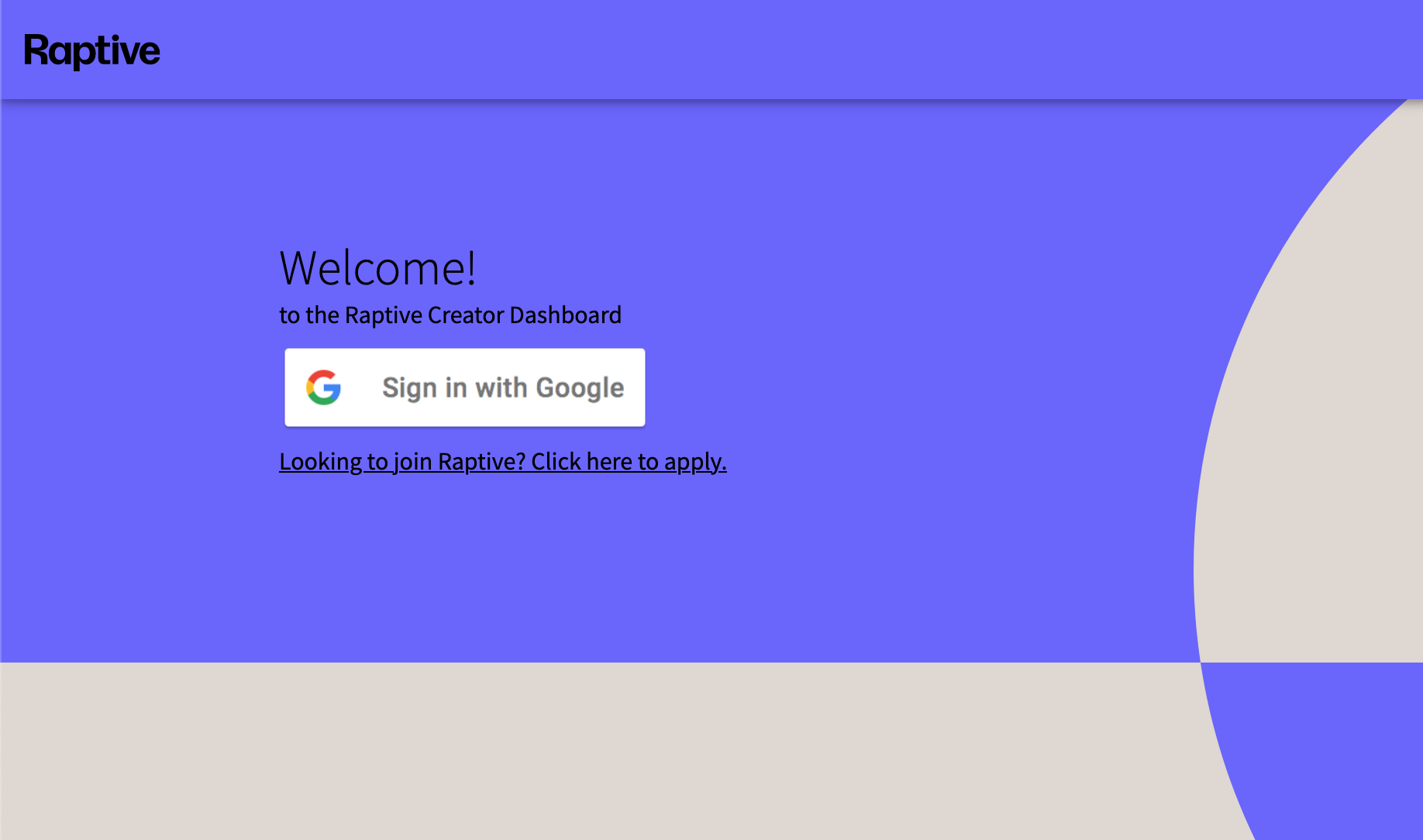 Go to Go to https://dashboard.raptive.com

Click "Sign in with Google."


If you have multiple sites with Raptive, you can switch between dashboard views via the dropdown menu at the top of the dashboard.
Having trouble?
If you're having trouble accessing your Raptive publisher dashboard, here are some quick and easy things you can try. We've found that nine times out of ten, you'll be able to log in after working through these steps!
Troubleshooting your email account
The dashboard requires a Gmail or other Google account — check to make sure you are logged into the correct Google account. Being logged into multiple Google accounts can cause issues accessing the dashboard.
See also: Can I log in to the dashboard with a non-Google email address?
Troubleshooting your browser
Sometimes your current browser may be causing an issue.
Browser version: Check to make sure that you are using the most current version of your browser, as some older browser versions may not be supported.

Clear cookies: Try clearing your browser history, including cache and cookies.

Go incognito: Try logging in using an incognito or private browser window.

Check ad blockers: Make sure you have any ad blockers disabled for publisher.adthrive.com. Even if you haven't consciously enabled an ad blocker, sometimes they can be built into the browser's settings and affect the way the dashboard authenticates your login. Double-check your browser settings to make sure no ad/content blockers are running.
Switch browsers: Lastly, see if switching to a different browser helps.
If you've tried each of these steps and still aren't able to access the dashboard, send in a support ticket so we can take a closer look at the issue!
Please include:
The email address you are trying to use to log in,

so we can make sure it matches what we have in our system.

The troubleshooting steps you've already tried.

The type of device and browser you're using.
A screenshot or details of the error message you're receiving.
This will help us avoid duplicating any troubleshooting steps and get you in to your dashboard ASAP!