Keyword Research is an AI-powered feature within Content Optimization in your Raptive creator dashboard. Start with an idea and let Keyword Research identify the highest-opportunity keywords for your site. From there, click to create a Topic content brief packed with data-backed suggestions to help you write a post that will drive traffic to your site.
Get started:
How to Use Keyword Research
Quickstart Guide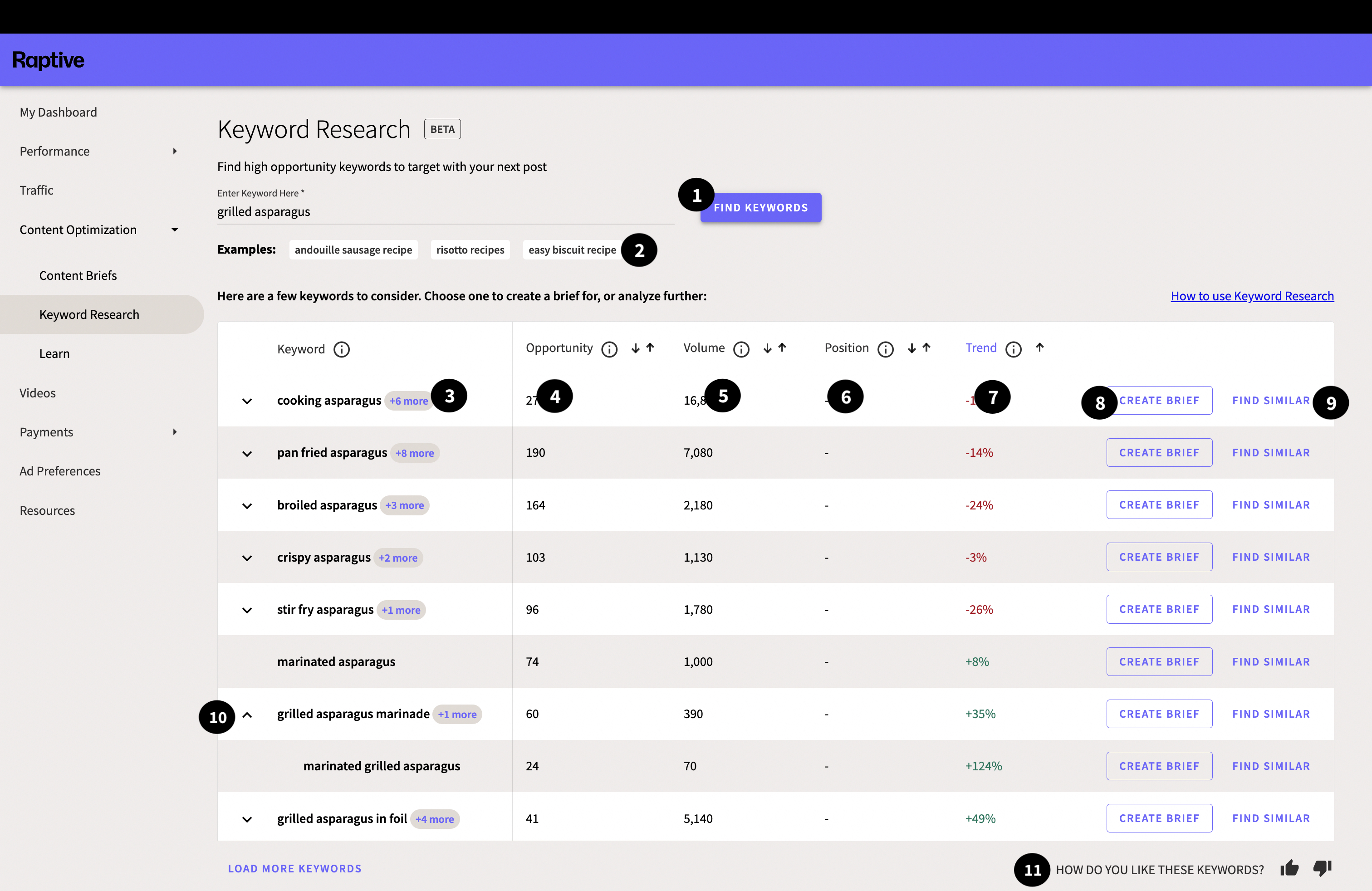 Type in a keyword for a specific subject area you want to write about and hit "Find Keywords."
Examples are vertical-specific and should be related to your content. They are meant to be thought-starters - try them out if you want to see how the feature works, try something new quickly, or have writer's block.
Your list of keywords and keyword clusters to consider; keyword clusters represent a group of multiple keywords with similar search results (read more about the benefits below).
Opportunity represents the estimated amount of monthly search traffic that your site could capture if you wrote a high-quality piece of content targeting the keyword.
In the Volume column, you'll see this keyword cluster's average monthly search volume (via Semrush).
If you currently rank for the keyword, you'll see your average position over the last 30 days. This data is only available if your Google Search Console is connected (you can follow these steps

to connect Google Search Console to your Raptive dashboard).

The Trend column tells you the expected change in search volume over the next three months.
Create a brief based on the keyword cluster, either as a new post or an update to an existing post.
Click "Find Similiar" to perform a new search and find keywords more closely related to that specific keyword or cluster.

Click on the arrow on the left of the cluster to expand the table to show details on each keyword in the cluster.

Please let us know what you think about the keywords or this feature in general; you can just hit the thumbs-up or -down, and a form will pop up for you to share your feedback.
FAQs
Where do I begin?
To get started, type in a keyword for a specific subject area you want to write about, then hit "Find Keywords," and then you'll see a list of keywords and keyword clusters.
Where do the keywords come from?
We use a variety of data sources, including Semrush, Google Search Console, Google Keyword Planner (also a data source for Semrush), and other third-party sources.
Where do the examples under the search bar come from?
Those are tied to your vertical and should be related to the content you write about. They are meant to be thought-starters - try them out if you want to see how the feature works, try something new quickly, or have writer's block.
Why does the feature cluster keywords together?
One of the most powerful facets of the Keyword Research feature is that it automatically clusters keywords based on search result similarity. If multiple keywords have similar search results, then a single post can rank for all of these keywords, and so they represent a single content opportunity.
Keyword Research uses the GPT-3 LLM to understand the meaning and context of the keyword you enter, enabling it to uncover the most relevant keyword opportunities. Instead of relying solely on exact word matches, AI helps the system process the connections between words, phrases, and concepts. This approach ensures more precise and fitting results.
The feature also uses a machine learning/AI clustering algorithm to group similar keywords together.
Clustering keywords has a few benefits:
It removes any "duplicates" from the keyword list, which means you can be sure that each row represents a unique ranking opportunity
It helps you find long-tail opportunities that a typical keyword research tool would miss
It makes the opportunity and search volume metrics more accurate
What is the opportunity column, and how is it calculated?
The opportunity column estimates the amount of monthly search traffic that your site could capture if you wrote a high-quality piece of content targeting the keyword.
We calculate this by comparing your domain authority against the competitors ranking for each keyword. Then we assume you would replace the highest-ranking competitor with a lower domain authority than your site. Then we apply a standard click-through rate based on the position of this competitor and multiply it by the monthly search volume returned by SEMRush. This gives us an estimated monthly traffic volume you could win if you created a post targeting this keyword.
What if I don't see any opportunity value in that column?
If the opportunity value is missing, this often means that the competition on the first page of results is high, and your site might have difficulty ranking on the first page quickly for this keyword. Consider the similar keywords you can earn traffic for. Continue to use your best discretion when deciding if this is a keyword worth pursuing the completeness of your site or information your audience is looking for in addition to the search volume opportunity.
Where does the search volume data come from?
The search volume and domain authority data come from SEMRush.
Why do I need to connect my Google Search Console?
Connecting your Google Search Console lets us see the pages you rank for and provide data in the position column. Seeing this information will help you prioritize posts to update.
How is the trend percentage calculated?
We look at the upcoming three months of search volume and compare that to the average volume for the term. The percentage shown is how much that upcoming search volume is above/below the average.
Why are there no results for my query?
We're still early in building up our keyword bank, and although we've done our best to fill it up with high-quality keywords, subject areas still need more coverage. We'd love to get feedback, so if you feel that the keyword quality could improve, let us know at support@raptive.com.
The position for this keyword does not match what I see in other data sources. How do you determine this?
The position shown is a weighted average across all the keywords in the cluster. The weighting is based on the impressions the keyword receives, so the position of keywords with more impressions will play a bigger part in determining the overall average position.
Do I only see keywords that I currently rank for?
The feature surfaces semantically similar terms to whatever is searched, regardless of whether or not you currently rank for that keyword. In that way, it is similar to Semrush rather than only surfacing terms where your site specifically ranks. We show the ranking information for each term if you have a post already ranking for it, but this does not limit which results are shown for each search.
Which keyword should I choose from the options listed?
The opportunity for each possible keyword is an excellent place to start! Keywords with a higher opportunity volume will likely yield more search traffic to your site. Some other factors to consider when making a selection:
Keyword seasonality - is the keyword expected to increase in searches in the coming months? The trend column shows how the search volume will trend in the upcoming months.
SERP composition - what does the first page of results look like? What type of content is Google prioritizing? Search the keyword to determine if your content is similar to the type of content ranking well for the term.
For more strategies, check out this article in the resource center.
What if I want to use multiple keywords in the cluster in my content brief?
All the keywords included in the cluster yield very similar search results in Google. Because of this, the content brief will automatically pull in all the information you need to rank well for all keywords contained in the cluster.
Is the feature using US traffic data, and are we able to customize this?
Yes, all the traffic numbers are for US traffic sources. There is currently no way for you to configure this source, but it is something we will explore.
Where can I learn more about general strategies for keyword research?
Here is some helpful content from our Resource Center:
How does this keyword feature compare to other keyword research tools?
| | | | | | |
| --- | --- | --- | --- | --- | --- |
| | Raptive | Surfer | SEMRush | Ahrefs | RankIQ |
| Cost | Free for our creators | $59 / mo | $119.95 / mo | $99 / mo | $49 / mo |
| Find keywords that your site can rank for with a personalized opportunity score | ✅ | ✅ | ❌ | ❌ | ❌ |
| Find better opportunities with automatic keyword clustering | ✅ | ✅ | ✅ | ❌ | ❌ |
| Spend less time sifting through data by automatically filtering out non-content-focused keywords | ✅ | ❌ | ❌ | ❌ | ❌ |
| Avoid targeting keywords you already rank for with position data from Google Search Console | ✅ | ❌ | ❌ | ❌ | ❌ |
Features not available with our Keyword Research offering:
Specific competitor information (what keywords other sites are ranking for)
Backlinks data
CPC (cost per click)
Position tracking
SERP and search intent analysis