The Raptive Ads WordPress plugin offers an easy way to turn off ads when you're working in the WordPress admin panel, previewing posts, using a post or page editor like Elementor, or viewing posts on your site.
It's an easy, distraction-free way to view posts and pages without ads, so you can focus on other visual elements, and it solves any issues with ads interfering with page builders like Elementor when you're working on your site.
How it works
Use the "Disable Admin Ads" checkbox in the Raptive Ads WordPress plugin preferences to disable all ads when previewing a post or customizing a theme in WordPress Admin. We particularly recommend this if you use post or page builders like Elementor.

Use the same checkbox in the Raptive Ads section of your post or page editor to control this setting for a particular post/page.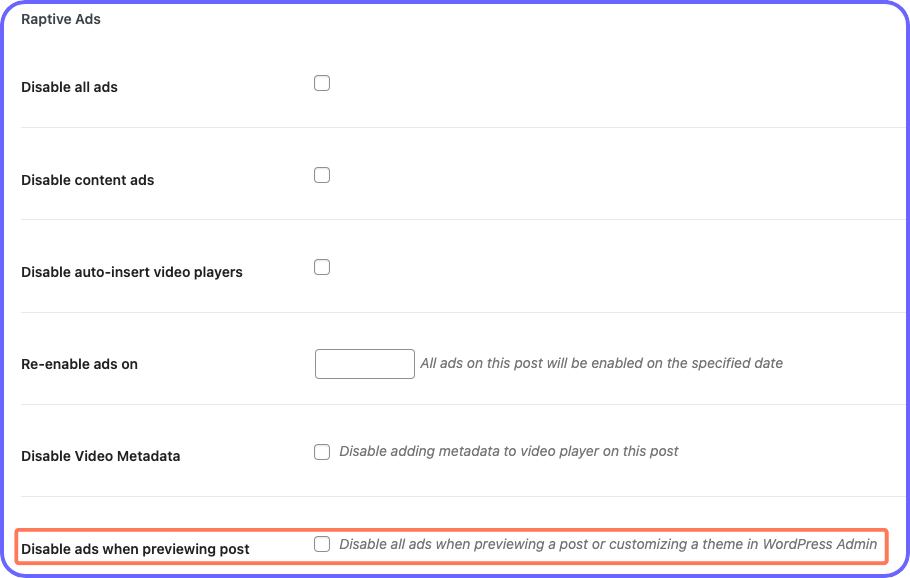 When enabled, this setting will disable ads for any logged-in user with an admin, editor, author, or contributor role.
Will this setting impact my site's revenue?
Since pageviews from logged-in users (admin, editor, author, or contribute roles) typically make up a very small percentage of your overall traffic, this setting should have no noticeable impact on your ad revenue.