Think of the Related Player as an embedded YouTube video.
Upload videos to your creator dashboard, then copy the video's HTML code or WordPress shortcode to manually embed the video in a specific post or page on your site. The video is generally related to the content of that page.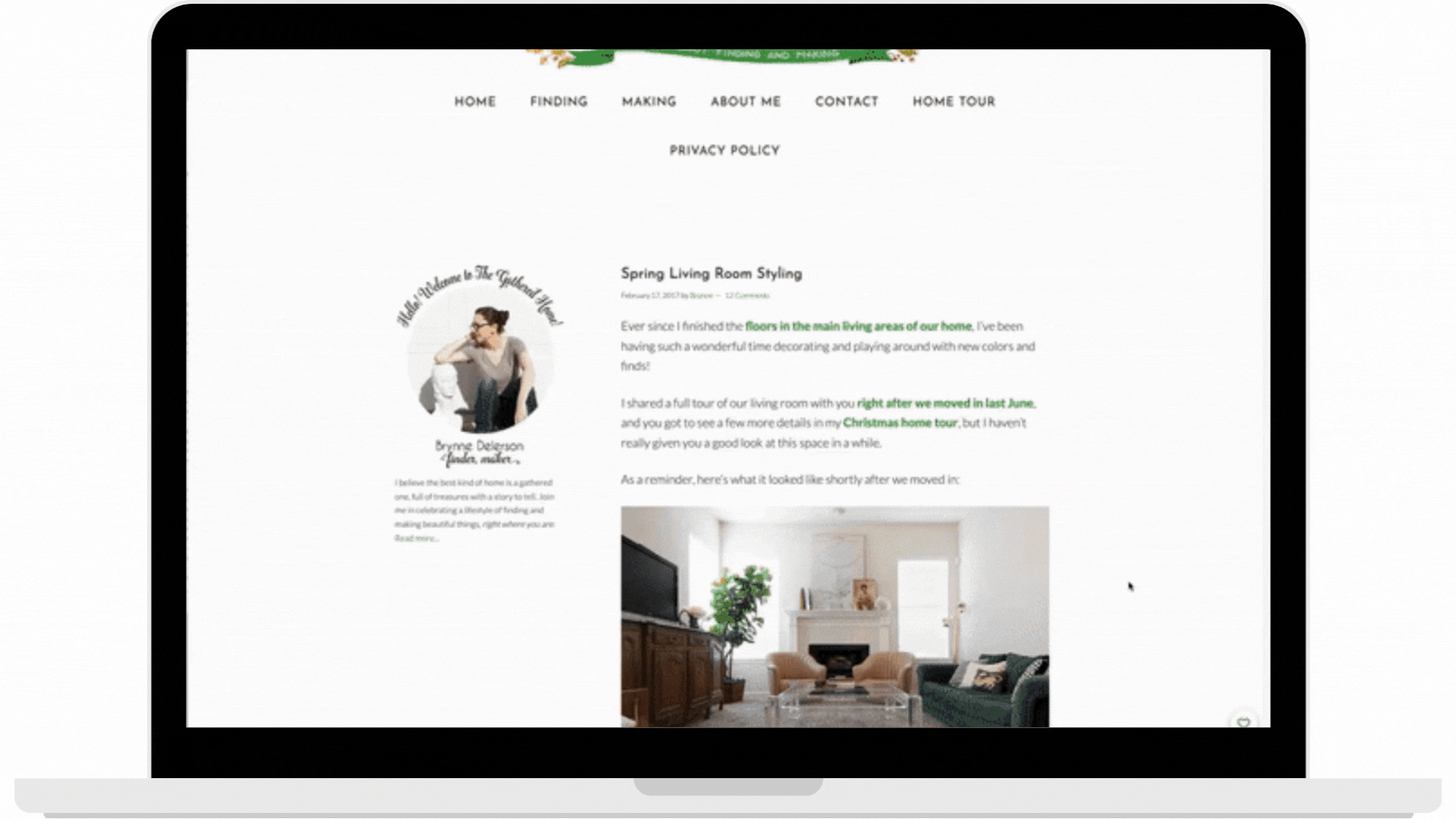 Adding Related video to a post can boost SEO and pageviews from search by 40%+ and earn double RPM when a reader clicks to watch the video.

In this article:
The difference between Related video and Playlist video
If you're running the Playlist video player most of your video revenue will come from that player. But there are still strong reasons to invest in original video content related to specific pages on your site.
Adding a Related video that your readers click to play to a page that already has the Playlist player can boost overall RPM by 2x and video RPM by 4x for that page!
Not every reader will click to watch a video (data shows just under 3% of readers click), but revenue skyrockets when they do because engaged video views are extremely valuable to advertisers.
For maximum video revenue, run both types of players.
Time on page benefits of Related video
When a post contains a Related video that readers are watching, time on page increases by around 80%. Any display ads that are in view continue to earn ad impressions and increase your RPM for that page.
For every additional 30 seconds a reader spends on the page, you can generally expect a 5% revenue increase.
For example, if a post's average time on page is 80 seconds and a related video leads to an 80% increase in time on page (144 seconds), that's 64 additional seconds — 2 more ad impressions for every viewable ad, and approximately a 10% increase in revenue for that page.
Related video makes your readers stick around and earns you more revenue from ALL your ads.
SEO benefits of Related video
Related video is also great for SEO! Posts with videos earn more backlinks and see a boost in search traffic – our testing shows search traffic increases by 40% when creators add a related video to a post.
Our Related video player is optimized for search and includes Google's recommended structured data. We even tested which was better for SEO – our video player or YouTube's video player. Learn more.
Related video fuels your SEO efforts, getting more pageviews and revenue to key posts on your site.
Should Related video be Stationary (click-to-play) or Sticky?
The Related video player has two options for how it appears on your site: it can be Stationary or Sticky.
A Stationary video will show exactly where you place the embed code on the page, and a reader must click "play" on the video player to watch the video. This is our recommended configuration for Related video.
A Sticky video will begin playing (with the sound off) as soon as the reader scrolls past the video player. This video player then "sticks" to the page and continues to play unless the reader closes the player using its X close option.
Sticky videos have two sub-options:
Manual placement: The sticky video will appear in the post exactly where you paste the embed code.
Auto placement: The sticky video will appear in an optimized place within your post for the highest viewability.
Which should you run?
For maximum video revenue and reader engagement, we recommend embedding specific videos into your posts as Stationary (click-to-play) video and running the Sticky Playlist video player.
Why?
Because you get the best of both worlds. When a reader visits the page, your Playlist video will start playing right away so you immediately earn video revenue. Then, when engaged readers click to play the Related video, you'll make 4x as much video revenue because those plays are extremely valuable to advertisers.
If you're running the sticky Related video player, each video play is worth less to advertisers and the sticky Playlist will never run on the same page because you can only have one sticky video per page. So you'll earn less than you could with a sticky video player AND readers who click on the stationary video player.
If you are not running the Playlist video player on your site: We recommend setting your Related video player to Sticky with Auto placement. This allows your video to appear high on the page and stick to the screen as the reader scrolls, which earns the most revenue.
How to set all Related videos as Stationary or Sticky
Choose your Global Video Player Settings in the Videos tab of your creator dashboard. Click on the gear icon to see the current default for your Related video embeds and make any sitewide changes.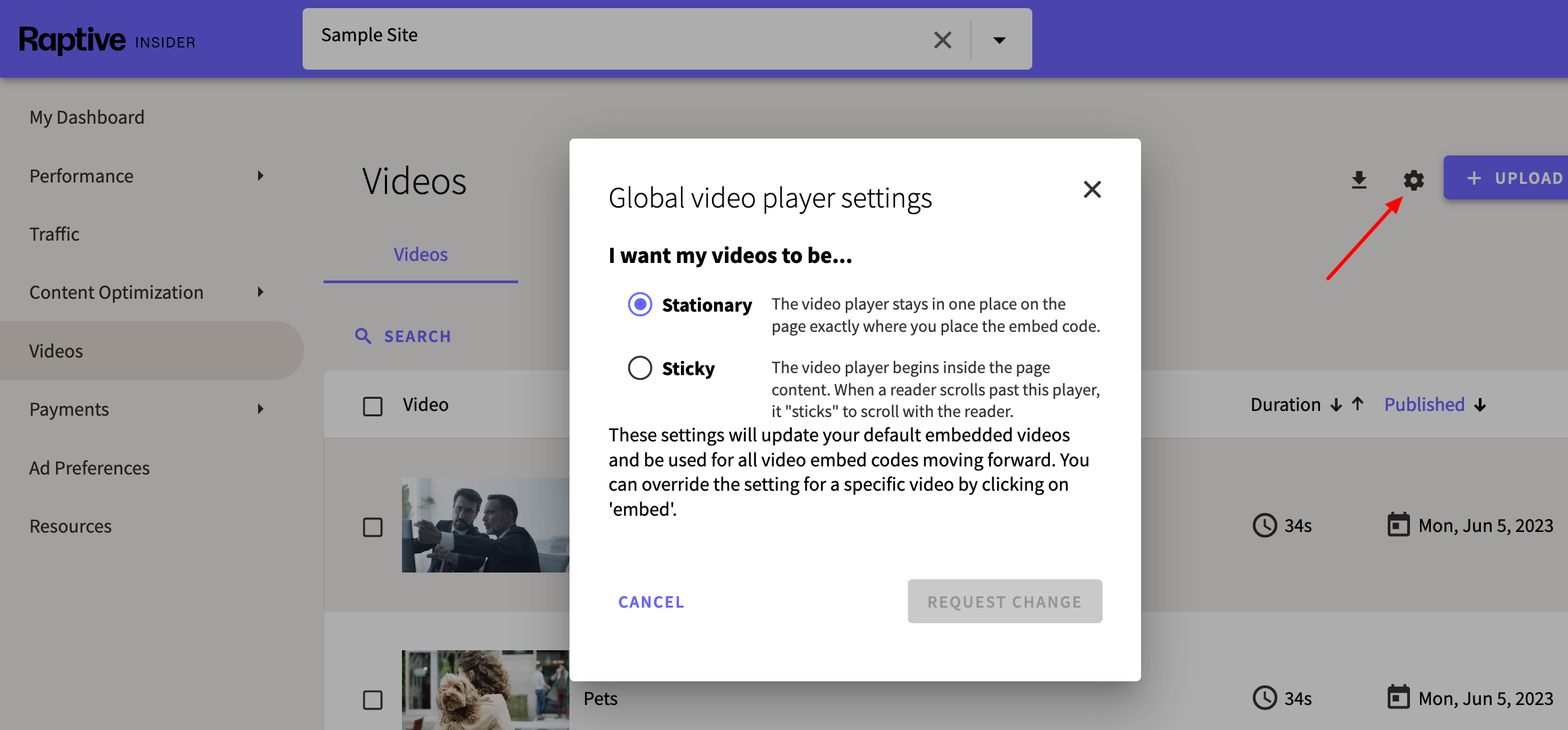 Once you make an adjustment and click "Request Change," the request goes to our team. We'll make the necessary changes and reach out to let you know.
How to change embed settings for just one Related video
Suppose you have your Global Video Player Settings set to Stationary, but you really want one video on one particular page to display as Sticky.
You can embed the video using the option to Override Global Setting when you generate the video's embed code.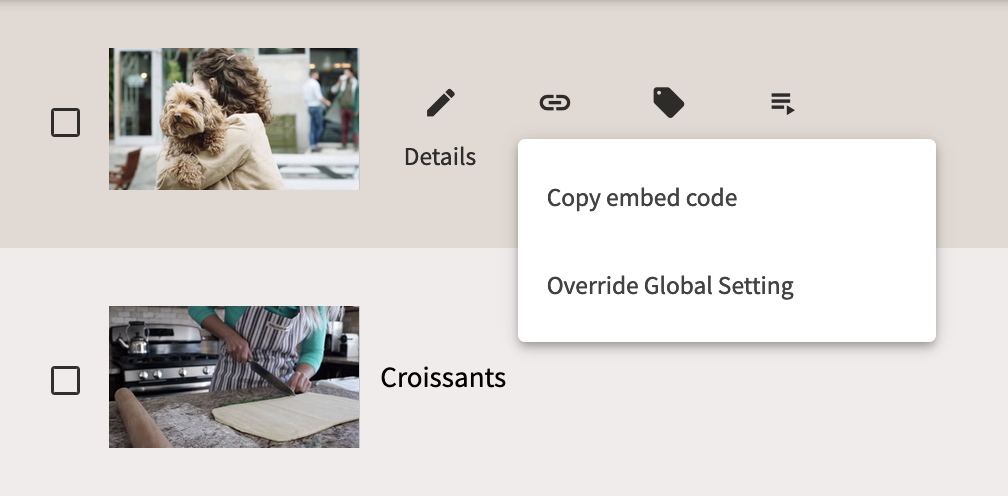 This will override your Related player's default settings and allow you to embed that specific video however you want: Stationary, Sticky with Manual placement, or Sticky with Auto placement.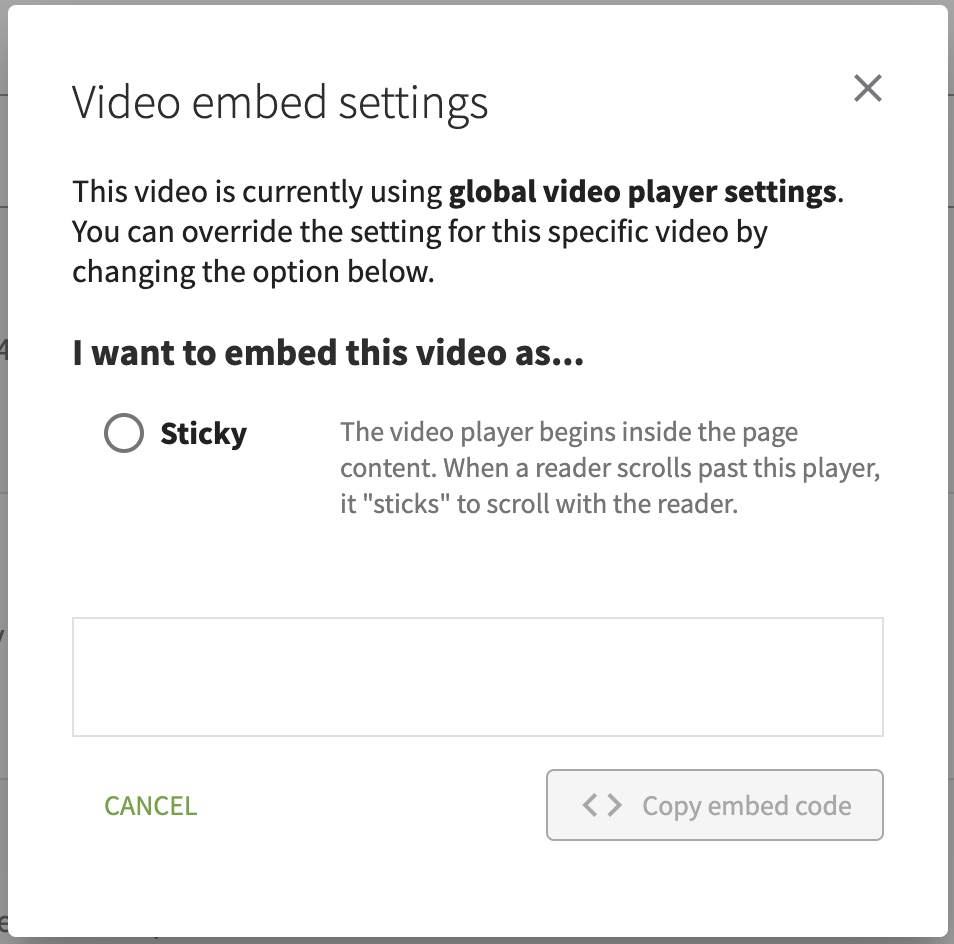 You'll see whatever option you don't have as your video player default and can copy the embed code to place on your page.
Embedding Related video on your site
Visit this guide to learn all about how to embed a Related video in a post or page on your site, including where to put the embed codes in your post content, how to embed video in a recipe card, and how to embed the same video on multiple pages or multiple videos on the same page.
The top-earning settings for the Related player
1. Remove the video player's title wrapper on the Ad Preferences page in your dashboard. Readers are less likely to close a video player when it's more minimal on the page, so you earn 5-6% more from video ads.

2. If you are running the Sticky Related player,* enable the Advance Playlist Feature in Related player on the Ad Preferences page in your dashboard. Your Related player will move from that specific video to the next video in your video playlist after 30 seconds if the reader has not interacted with the video player, and your video player can earn 33% more! You should have more than one video added to your playlist to run this feature.
*Only use this setting if you are running the Sticky Related video player. Please also note that Stationary Related video that readers click to watch, not Sticky Related video, is our recommended setup.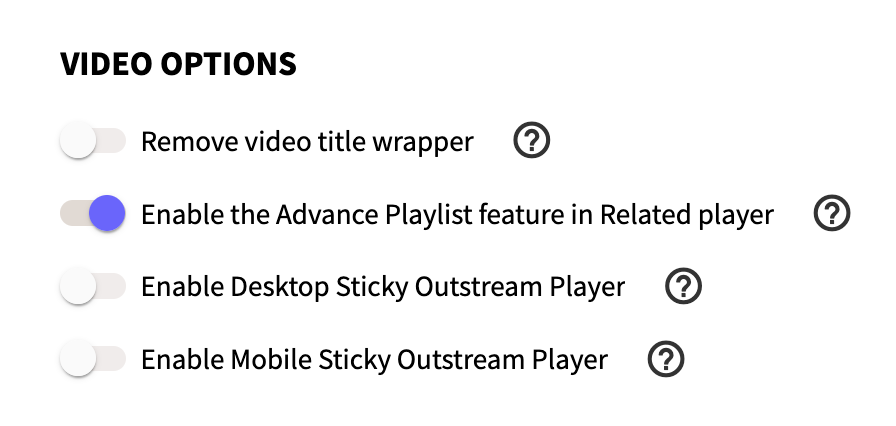 How to see your Related video earnings
In the "Earnings" section of your dashboard, select "Earnings Overview" for a report on your video revenue for whatever time period you select at the top of the page.