Ready to start monetizing video content on your site?
Here are a few easy steps to begin earning from video today:
Check out the different types of video players you can run with Raptive.
Turn on the Sticky Outstream video player via the Ad Preferences tab in your dashboard.
Begin uploading original video content via the Videos tab in your dashboard. Don't see the Video tab? Contact us today.
Embed videos into relevant posts or pages on your site
Contact us to get the Playlist video player turned on for your site
Watch your ad revenue soar!

In this article:
An overview of the Videos page in the creator dashboard
On the Videos page of your creator dashboard, upload videos and view and edit the details for each video in your library.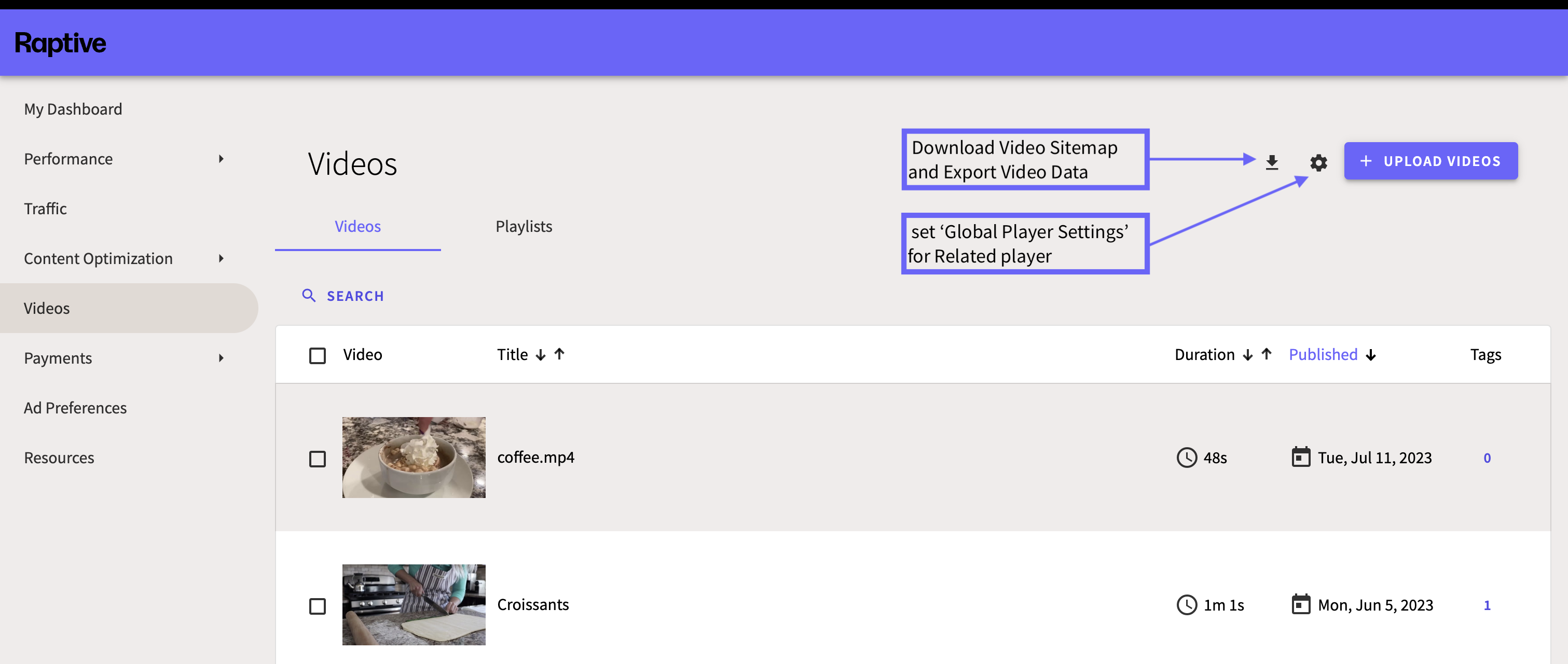 Download Video Sitemap
If you're running the Raptive Ads WordPress plugin, it's easy to manage your video sitemap file. If you need to manually access your video sitemap file as an XML file, you can do this on the Videos page in your dashboard. Read more about video sitemaps here.
Export Video data
Click the download icon and select "Export Video" to download a spreadsheet of all your video information (including embed codes).

Global Player Settings
Use these controls to update all your embedded Related videos so they show on the page as either Stationary (recommended) or Sticky. You'll receive an email confirmation from our team when the update is complete. Read more about Related video here.
Upload Videos
Upload new video content to embed on your site as Related video and/or add to your Playlist video player. Read more about uploading video content here.
How to manage your video library
On the main Videos page in your dashboard, search, view, and sort through your videos by title, video duration, date published, number of tags, and whether the video is added to your playlist or not.

When hovering over each video, you can see more options:
Details: View and edit the details of the video like Title, URL, Description, etc.
Embed: Copy the embed code for the video so you can add it to a post or page on your site.
Tags: View, Add, or Remove different tags for that video. Tags make videos easier to search and organize.
Playlist: Add or remove the video from your Playlist video player.
How to add details for each video
When you click on a video's details, you can view and edit specific elements like the video title, description, URL of the post on your site related to the video, upload a closed caption file, and control settings for that video.
Visit this article for a full breakdown of each video's detail fields.
Video options on the Ad Preferences page
You'll find a few additional video options on the Ad Preferences page of your creator dashboard.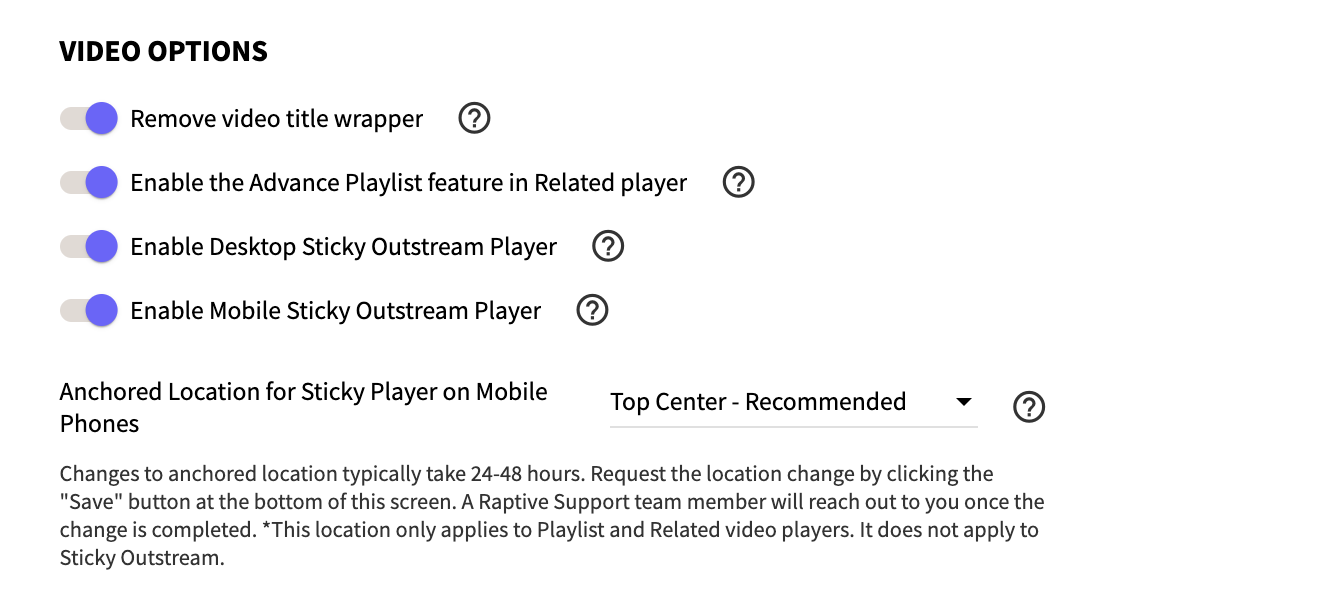 Remove the video title wrapper
Streamline your video player by removing the video title. Readers are less likely to close the minimal video player, so you earn more from video ads. Learn more.
Enable the Advance Playlist feature in Related Player
This means your Related player will move to the next video after 30 seconds if the reader has not interacted with the video player. This setting is NOT recommended if you're running the Stationary Related video player. Learn more about Related video player settings.
Enable Sticky Outstream Player
You can run the Sticky Outstream video player on desktop devices, mobile devices, or both (recommended.) Learn more.
Anchor Location for Sticky Player on Mobile Phones
Choose where the sticky video displays on mobile devices. For the best user experience and ad revenue, we recommend the Top Center location. Learn more about the Playlist video player.
Video Playlists
A video playlist is a collection of videos of your original content. The Playlist Player cycles through the list of videos in your playlists and ads run between each video. On the 'Playlist' page in the dashboard you can create, edit and publish as many playlists as you want. If you use the Raptive Ads WordPress Plugin, you can assign playlists to run on specific web pages based on the page category in WordPress.
How to...