We believe that our ad expertise + your intimate knowledge of your site and audience = the recipe for success!
As such, we're always cooking up new ways to improve your ad layout and increase earnings. We continually offer the latest in effective ad types and placements while optimizing our ad technology on the backend, and our team schedules regular check-ins to review new opportunities for your site.
And, on the Ad Preferences page in your Raptive dashboard, we're putting some extra controls at your fingertips — pick and choose your ad options, or turn on Auto-Optimize and let our team handle everything for you!
Ad Preferences
Head to your dashboard and click on the Ad Preferences tab. You'll see a variety of options for Ad Optimization, User Experience, Permissions, and Ad Categories.
Let's take a closer look at each section.
Auto-Optimize
With Auto-Optimize enabled, you'll always get the latest, greatest revenue opportunities!
Auto-Optimize allows you to sit back and let our team of experts optimize your settings for maximum ad revenue — an average of 13% higher earnings over time! Enable Auto-Optimize and the toggles below will adjust to our recommended settings. You can make any additional adjustments to match your own preferences, and when we have a new, high-earning opportunity available, we'll turn it on for you and reach out to let you know.

If you prefer to have more control, you can pick and choose options to customize your own ad experience — for Ad Controls, Video Options, and Email.
Ad Controls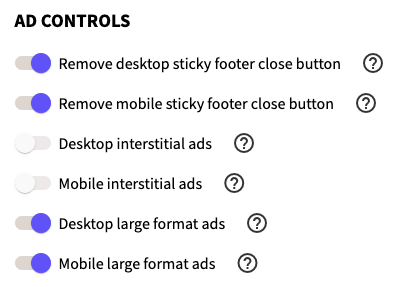 Remove sticky footer close button
Boost your earnings from your sticky footer ad by removing the ability for readers to close it. This keeps the ad on the screen longer, allowing for more ad impressions, and leading to a potential 3–5% revenue increase from that ad unit. You can choose to remove the close button on desktop, mobile, or both. Learn more in this article all about the sticky footer close button.
By default, new Raptive creators are opted into this option.
Interstitial ads
Interstitial ads are full-page ads that sometimes serve when your reader navigates to a second page on your site. We've seen interstitial ads pay double-digit CPMs and increase RPM by up to 2% (and sometimes much more) for publishers who opt in. Since interstitial ads display on subsequent pageviews, more pageviews per session increases your earning potential from these ads. Learn more in our Interstitial Ad FAQs.
Large format ads
Large format ads are larger than the standard ad sizes recognized in the industry by the IAB. These high-impact ads are typically 728x410 (desktop) and 320x480 (mobile) and are sold programmatically or directly. Large-format ads pay 2-6X higher CPM than standard ad sizes. These higher CPMs can increase your RPM by up to 3%. You can learn more about them here.
By default, new Raptive creators are opted into this ad type.
Video Options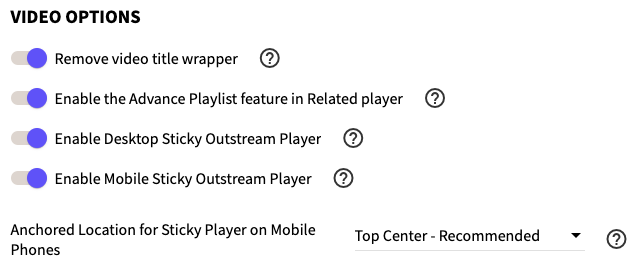 Remove video title wrapper
Your sticky video players typically display the title of the currently playing video at the top of the player, and in the Playlist player this title links to the URL associated with the video (if you specified one when you uploaded the video). Removing the video titles from your players can result in an RPM boost — about a 5–6% lift to your video RPM and about a 1% overall RPM increase. Learn more here.
Enable Advance Playlist Feature in Related Player
Your Sticky Related Video Player plays your Playlist videos after your Related video completes, and the Playlist videos advance to the next video after 30 seconds, if the reader hasn't interacted with the video player. With this setting enabled, your Related video will also advance after 30 seconds of no interaction. Read more here: Advance Playlist feature
Enable Sticky Outstream Players on Desktop and Mobile
The Sticky Outstream Video Player is a video ad unit that sticks to the bottom of the page and runs video ads continually. This is a great way to earn from video ads without having to create your own video content. You can enable the player to run on desktop, mobile, or both. Read more about the Sticky Outstream Player here.
Select the Anchored Location for Sticky Player on Mobile Phones
Select the preferred position of your Sticky Player on mobile. Choose the top-left, top-right, bottom-left, bottom-right, or top-center (recommended). Selecting the recommended top-center location increases overall earnings by 2-3%. All changes take place on your site within 24-48 hours.
By default, new Raptive creators are opted into all optimized video options.
Email

Raptive Email Identity
Raptive Email Identity is one of many solutions to help preserve publisher revenue after third-party cookies go away. Once enabled, whenever a visitor types an email address into a form on your site (such as a newsletter signup), our ad code hashes the email address into a unique, privacy-preserving identifier that can then be used for targeted advertising. Learn more in our Raptive Email Identity FAQs.
This is turned on by default for new Raptive creators.
User Experience
Under User Experience, you have the option to turn on our CLS solution. This is turned on by default for new Raptive creators.

This setting does two things. First, it reserves space for ads when the initial ads library loads. Second, it applies a minimum height to your ad spaces, to avoid potential page shift when an ad serves. These two optimizations greatly reduce ad-related CLS issues.
Note: If you've enabled the CLS setting within the Raptive Ads plugin, you are already running our best solution for maximum CLS benefits, and this Ad Preferences CLS setting will not have an effect on your site.
Permissions
In the Permissions section, you can allow our team to make updates to your Raptive Ads plugin, head tag, and/or ads.txt file. With these permissions turned on, we can act faster to update your site when necessary.

For new Raptive creators, permission to update the plugin/head tag is turned off by default. Permission to update the ads.txt file is turned on by default.
Ad Categories
The last section on the Ad Preferences page, Ad Categories, allows you to opt in to different categories of ads you might be interested in having on your site. Allowing these additional categories increases your earning potential, so it's worth looking to see if any are a good fit.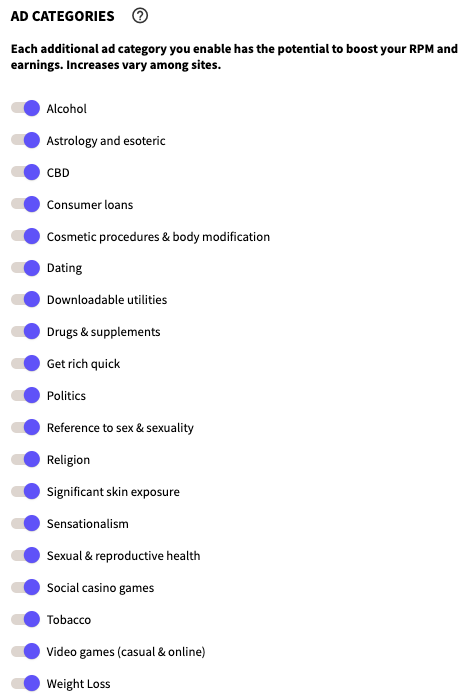 By default, all categories are turned on for new Raptive creators, but you can make any changes you'd like to fit your personal preferences.
Here's some more information about these optional categories:
Alcohol: Beer, wine, etc.
Black Magic, Astrology & Esoteric: Includes zodiac, horoscopes, love spells, potions, and psychic-related ads.
CBD: Includes cannabis/CBD products.
Consumer Loans: Includes consumer lending and loans.
Cosmetic procedures & body modification: Includes lifts, suctions, lasers, hair removal and restoration, tattoos, and body modification.
Dating: Includes dating services and online dating communities.
Downloadable Utilities: Software for download which is designed to enhance the functionality of an operating system or device, whether desktop or mobile. Typical examples include anti-virus software, file converters, driver updaters, system cleaners, download managers, disk defragmenters, codecs, browser toolbars, ringtones, screensavers, wallpapers, and so on.
Drugs & Supplements: Includes pharmaceuticals, vitamins, supplements, and related retailers; does not include resources providing information about drugs.
Get Rich Quick: Ads that offer to share lucrative business secrets with consumers, or which offer significant money or merchandise for little or nothing in return. Includes multi-level marketing, work from home offers, and so on; also includes online surveys.
Politics: Includes ads for political campaigns or candidates, ads addressing controversial social issues, ads referencing well-known politicians, and ads touching on events widely perceived to be political in nature, such as elections, protests, terrorist attacks, wars, and conflicts.
References to Sex & Sexuality: Includes ads that are suggestive, relate to sexual or reproductive health, or refer to sex and sexuality.
Religion: Includes religious ads and ads advocating for or against religious views; does not include astrology or non-denominational spirituality.
Sensationalism: Ads that aim to induce users to click them by appealing to their curiosity, often using a teaser message with hyperbolic language or imagery. Includes ads that center around sensationalistic subjects (such as celebrity arrests, deaths, or divorces) or aim for shock value.
Sexual & Reproductive Health: Includes sexual function, fertility, and birth control ads, as well as ads for products, services, and information related to STDs including clinics and medication; does not include normal pregnancy resources or abortion services.
Significant Skin Exposure: Ad images where any part of the human body from the sternum to the mid-thigh is not clothed; or the body is clothed in underwear, swimwear, lingerie, or other see-through clothes or non-clothing items such as a towel or bed sheet.
Social Casino Games: Includes simulated gambling games (including, without limitation, poker, slots, bingo, lotteries, sports betting, betting on races, as well as other card games and casino games) where there is no opportunity to win anything of value (such as money or prizes).
Tobacco: Includes cigarettes and tobacco-related products.
Video Games (Casual & Online): Includes video games, online games, and downloadable games; does not include video game consoles.
Weight Loss: Includes weight loss, dieting, and related products and programs; doesn't include healthy eating or general fitness ads.

You may want to enable some of these categories for a temporary period. Revisit your preferences seasonally and consider turning on certain categories when they are at their peak:
Drugs & supplements — during spring and fall when seasonal allergies are prevalent

Alcohol — before major holidays like the Fourth of July, Christmas, and New Year's

Dating — in the weeks leading up to Valentine's Day

Significant skin exposure — during the spring and summer months when retailers push swimwear and summer clothing

Politics — in the months leading up to the elections
Note: While we can enable the political ads category for you, we cannot filter ads based on political preference.
Whether you'd love our optimization experts to handle your ad settings for you, or prefer to customize your own experience, we've got you covered. Take a moment today to revisit your ad preferences and make sure you're set up for success! And look for more revenue-boosting options coming soon!