What is an In-Recipe Recommendation ad?
AdThrive In-Recipe Recommendation ads use our proprietary artificial intelligence platform, Marmalade, to place relevant, high-paying branded ad campaigns in your recipe card and in surrounding ad placements. This ad type only serves when a high-paying campaign is available.
For example, a brand that sells taco shells might purchase placement on a recipe for tacos, which adds a small ad and link for taco shells near the ingredient list: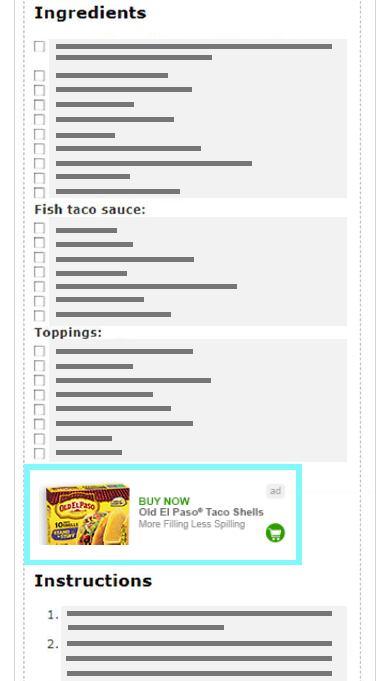 The brand may also buy out most/all of the surrounding ad placements on that page as well, causing that pageview to earn 2–3x normal RPM!
We work directly with brands to negotiate these one-of-a-kind ad campaigns, many of which involve a quick turnaround on delivery, so we aren't able to provide campaign details around this ad type.
How do I get this added to my site?
By default, any site with structured recipe content is eligible for In-Recipe Recommendation ad campaigns. No extra work or opt-in required!
If you don't wish for this type of ad to appear on your site, just drop us a note and let us know.
Where can I see In-Recipe Recommendation ad earnings?
You'll see earnings from the small ad grouped in with your recipe ads and all other ads on the page will be aggregated with their main ad type, like your header ad or your content ads.
Do I need to use a specific recipe card to have an In-Recipe Recommendation ad serve on my site?
These ads will serve on most recipe cards that present recipe ingredients and instructions in a structured format.
Will this run on sponsored recipes?
Like our Auto-Sponsored Post ads, Marmalade scans for text like "sponsored by" or "brought to you by" to remove those posts from the pool that can be selected for this type of ad campaign. Those phrases just need to be in plain text on your site.